Get Organized
What should you do to get organized for estate planning?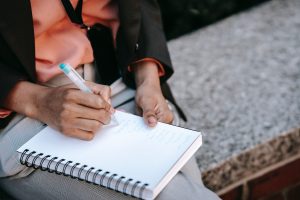 Make a list of all of your accounts and account numbers. This includes checking, savings, retirement, and brokerage accounts. You should also include insurance policies and policy numbers (auto, homeowner's, and life insurance) on this list. If something happens to you, you will want to have an organized list of all of your accounts and insurance policies so that your family members can make sure nothing is overlooked.
Make a list of the names and phone numbers of your professional advisors. Your attorney, your accountant, and your insurance agent should all be on this list. There can be a lot of stress after a death. Keeping an organized list of information will make things easier for your heirs.
As you make these lists, look at your most recent statements. Are all of the beneficiaries current? Did anyone's name change? If you have been married or divorced, has the ownership of the account changed to reflect that change in your life? If there are any changes, make a note to call the banker or financial advisor to sort this out.
If you have a Durable Power of Attorney (DPOA) that your estate planning lawyer drafted for you, check with the people at the bank to see if the bank will accept it. Sometimes the bank wants you to name a power of attorney on their own form. Usually this is so that the bank will avoid liability if your agent (the person who will act for you if you are unable to do so) runs off with all of your money. Sometimes the bank will not allow someone to use a lawyer prepared DPOA if you signed it many years ago. Regardless of what the banker tells you, always fill out the bank's POA form. The people at the bank do not scrutinize the bank's own form nearly as heavily as they scrutinize the form that your lawyer drafted for you.
Review your Will. If you don't have the original, you should get it and store it with your other important papers. The original Will is the only one that the probate court will accept. You don't want your beneficiaries spending an exorbitant amount of time trying to track down the original. Some attorneys used to keep the original Will to make sure that the heirs would hire them after the death of the person who made the Will. But people move, attorneys change firms, and it can be difficult to find an original Will. If you keep the Will with your other important papers, it will be easier for your beneficiaries to find.
Get organized when it comes to your personal financial information. This will make life a lot simpler for your beneficiaries after you are gone.
Contact me to get more guidance and create a proactive estate plan.